Rome Savings Bank Donates $3,000
Central NY Rotarians Launch Campaign
To Eradicate Polio from the World

Rotary District 7150, encompassing 47 Rotary Clubs across Central New York, is launching a three-year campaign to eradicate polio from the world. Polio, a crippling and often fatal disease no longer present in the U.S., still plagues some areas of the globe.
Because of its priority effort to vaccinate children wherever polio strikes, Rotary International this year received a $100 million matching grant from the Bill and Melinda Gates Foundation to finish the job.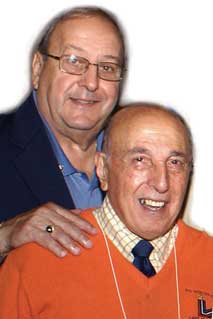 "Central New York Rotarians are committed to raising $50,000 a year for three years to help meet that $100 million challenge," announced 2008-09 District Governor Larry Calabrese of Whitesboro. "We're joining Rotary districts around the world in this campaign to lower child mortality and make our world polio-free."
Calabrese made the announcement at the annual District Conference, held this year in Alexandria Bay, where he also introduced Polio Campaign Chair Mike Occhipinti of Rome, a polio survivor himself.
"Ninety nine percent of the world is polio-free, but it's the last one percent that is the most difficult," Occhipinti said. "India, Nigeria, Afghanistan and Pakistan are areas where outbreaks of polio still maim or kill children. Mobilizing vaccination teams, getting refrigerated vaccine to remote areas, and overcoming geographical, political, religious and cultural barriers are daunting challenges, both financially and operationally."
"That's why," he added, "Bill and Melinda Gates have given us $100 million and have asked us to raise another $100 million, and finally make the world polio-free."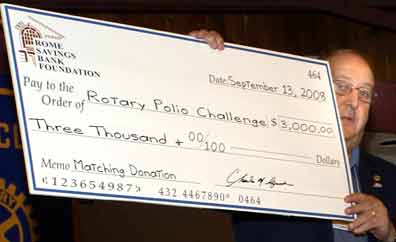 Occhipinti said his committee was raising some money at the district level, with Rome Savings Bank Foundation jump-starting the effort with a $3,000 donation. At the same time he was asking each club to raise $1,000 a year for three years to help meet the district's $150,000 commitment.
He explained that clubs would be raising dollars in a variety of ways:
holding fundraisers ranging from auctions to pancake breakfasts and other events.
seeking corporate sponsorships.
partnering with schools and youth groups to have young people participate in a "Pennies for Polio" drive.
"Young people can make a difference by collecting coins in 'Pennies for Polio' canisters," Occhipinti noted. "We'd like to see this happen during 'Make a Difference Week', the last week in October."
For every $1.20 that school children raise, "we'll be able to provide vaccine for two children; we'll be able to save two lives," Occhipinti said.
For every $1,000 that corporate sponsors provide, "we'll be able to provide vaccine for 1,667 children."
"So the people and companies of Central New York really can make a difference," Occhipinti said.
Anyone interested in joining with Rotary to eradicate polio may contact a local Rotary Club or District Polio Chair Occhipinti at 315-337-2405.