What to See and Do Saturday Afternoon
Choose from a variety of activities:
• Cruise among the islands while enjoying a buffet lunch aboard Uncle Sam Boat Tours, and cap it off with a visit to Boldt Castle. $30.00 per person ($18 for children 4-12; free for children 3 and under) , plus $6 per to visit Boldt Castle.
• Take a tour of T.I. Winery, and sample the vintages as well.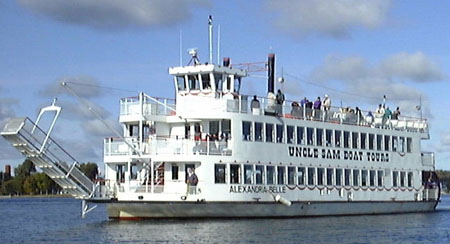 • Immerse yourself in nautical history with a guided tour of the Antique Boat Museum and the elegant house boat originally owned by George Boldt. $10 per person for groups of 20 or more.
• Shop the many unique shops and boutiques in Alexandria Bay and Clayton.
• Drive up the St. Lawrence River to Cape Vincent and Tibbetts Light House.
• Enjoy a round of golf at T.I. Country Club on Wellesley Island or at the Alexandria Bay Municipal Golf Course right in the village.
•
See the watercolors
, oils and sculptures of the Frederic Remington Art Museum in Ogdensburg.